There are so many ways to give back in Berks
And one thing is certain: where there is a need, there is someone in the area who is willing to step up and lend a hand. These three local organizations recognized an opportunity to do just that for Berks County's special needs youth.
All Abilities Fitness Center
During her career as an Occupational Therapy Assistant, Tara Simmons, owner of All Abilities Fitness Center in Reading, identified a need in the area for a safe and inclusive exercise space for her patients outside of their required physical therapy. She filled that need with All Abilities, which just celebrated its second anniversary last month.

Simmons has worked with the special needs community for 13 years in many different capacities. She spent eight years working with families as an Occupational Therapy Assistant, where she kept running into the same concern. "There was no opportunity for inclusive exercise in a 'safe space' for people of all disabilities outside of their required physical therapy." So, Simmons returned to school at Alvernia University where she earned her master's degree in Leadership for Sustainable Communities. While working on her capstone project, she decided she was ready to open the center and to provide that space the community was lacking. "The experience has been nothing short of amazing," she says. "My main inspiration was to help people of all ages and abilities hit goals in a safe space where they can also socialize and feel bonded."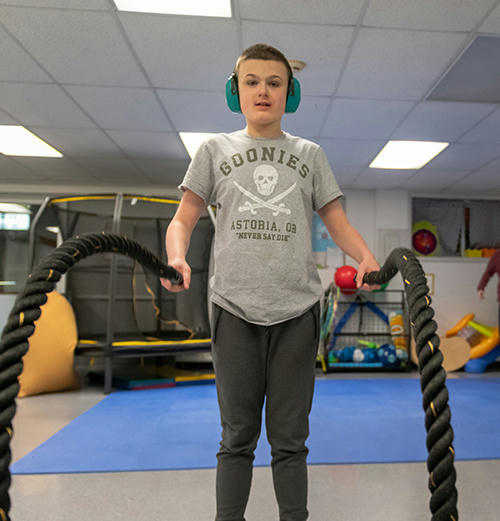 Gabe Landis, 13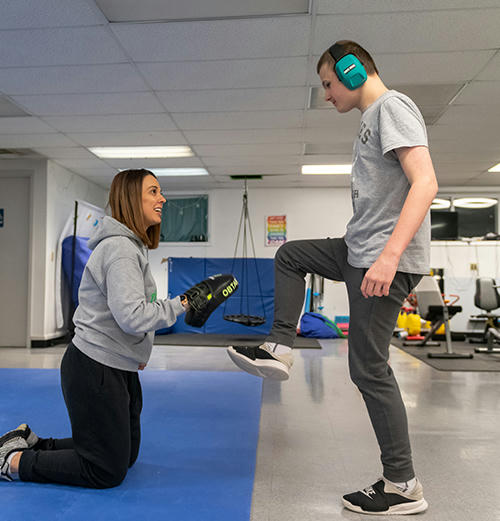 To include students of all ages and abilities, the center's programming must be truly adaptive. "We really do offer something for everyone," Simmons explains. "Currently, our youngest participant is two and our oldest is 72. I am personally working with a young girl who has a rare genetic disorder and her parents want to focus on unsupported standing balance and grasp and release exercises. In my next session, I'm working with an older gentleman to help him gain independence navigating his wheelchair. We do not turn anyone away."
All Abilities offers a group movement class three days a week for their six years and under students, and four days a week for elementary-aged kids and teens. They also provide adult classes twice weekly and can schedule private sessions throughout the day. Simmons and her staff can also bring their classes to you. The team travels to area schools and facilities to make attending classes easy. One-on-one training is also available. "We take the time to sit with each participant to determine their goals, and then we focus on exactly that for the entire session."
Students at All Abilities aren't just developing physical abilities through exercise. Classes also provide sensory and socialization opportunities. "One of our biggest 'unwritten' goals is definitely socialization and bonding. Many of our participants have met at class and become friends in the community, even if they are no longer attending classes," says Simmons. And those bonding opportunities aren't just for the students, but for their families, too. Simmons and her staff have watched many friendships form among the families of their students.
Classes are specifically focused on sensory and socialization opportunities. While each class does include some structure, the main focus is open play and movement. Every class begins with a warm-up, followed by varied exercises. "While the beginning of each class remains the same – purposely for repetition – we vary the actual class to maintain engagement. Some days we will complete a HIIT workout and others we'll use equipment like a treadmill or weight machine." Classes are also built upon the needs of each student. "We speak with parents to determine their main goals and add in focus on those activities."
GET INVOLVED
The first class is free for all new students, after which they can be registered online at allabilitiesfitnesscenter.com. Parents and guardians can also browse the full photo and video library. Both drop-in classes and memberships are available.
The Reading Fightin Phils
The Fightins have been doing their part to help area youth through Baseballtown Charities since 2002. According to Executive Director Tonya Petrunak, the organization was established by President Chuck Domino to "keep baseball alive in Reading so youngsters can benefit from the many life lessons the game teaches." Their flagship project raised more than $1 million to build the Gordon Hoodak Stadium at Lauer's Park in inner-city Reading, a place for the city's underprivileged youth to learn those lessons. Baseballtown Charities has also been involved in several other local field renovations, including the Baer Park Renovation Project in the city and the Oakbrook Park Baseball Field in Oakbrook public housing development, as well as smaller projects throughout the county.
Support On and Off the Field
In addition to providing a place to play, Baseballtown's RIP IT FOR LIFE program identifies a small number of children facing socio-economic challenges and takes an in-depth approach to their development, both on the field and off. "The goal is to give the athletes more 'hopes and dreams'-type training," Petrunak says. Instruction is provided by Rip It Batting Cages and professional coaches including Philadelphia Phillies Triple-A Pitching Coach Steve Schrenk and two-time R-Phils MVP and all-time Reading Hit King Mike Spidale.
"Over the years the organization has evolved from focusing on just one demographic in need to reaching throughout the community and touching many different types of people who could benefit from the game of baseball," Petrunak explains. In 2016, the organization turned its attention to special needs youth with a new venture: the Baseballtown Charities Dream League. It started with the construction of Savage Dream Field at the Relevant Sports Complex in Muhlenberg Township. The $1 million facility has custom-designed turf fields that accommodate wheelchairs and other assistive devices while helping to prevent injuries. "For the first time, children with physical and developmental disabilities have the opportunity to play on a field of their own, in a league of their own, just like every other kid," says Petrunak.
Now in its third season, the Dream League has more than 150 participants playing two seasons each year. Opening day for the spring season is April 25, and pre-registered teams will play two games each week through mid-June. In the fall, players who sign up can attend any number of open play games they choose throughout the week. The Dream League is designed for anyone with physical and cognitive disabilities, and there are no barriers to entry or age requirements. In addition to the help and support of family members and other players, every athlete is assigned a volunteer to assist him or her each game. Volunteers lend a hand with the rules of the game, give encouragement and, most importantly, keep the players safe.
GET INVOLVED
Baseballtown needs 15 volunteers on average to support each game – that's more than 800 per season! And Petrunak guarantees a good time: "No volunteer has ever left a Dream League game without a smile on their face and full heart." Get more info on volunteering for and playing in the Dream League at baseballtown.org.
Berks Ballet Theatre
CONSERVATORY OF DANCE
Berks Ballet Theatre Conservatory of Dance has been providing the highest quality training to area students for nearly 45 years. Their wide array of classes is aimed at elevating each student to his or her highest potential, both inside and outside of the dance studio. The theatre is also a non-profit pre-professional ballet company that brings stunning performances to Berks County audiences alongside organizations like the Reading Symphony and Pops Orchestras, the Berks Arts Council, BCTV and the Reading Public Museum.
In addition to providing aspiring dancers with the opportunity to pursue their dreams, Berks Ballet Theatre Conservatory of Dance also has a more than 40-year history of giving back. Those involved have worked with organizations like The Inner-City Girl Scouts, Olivet Boys & Girls Club, and the Neighborhood Housing Services of Berks County to provide those who may have never been exposed to ballet the opportunity to experience the magic in person. Last year, Berks Ballet Theatre Conservatory of Dance expanded its reach beyond aspiring professional dancers to include children with special needs and those same dreams through a partnership with Darby's Dancers.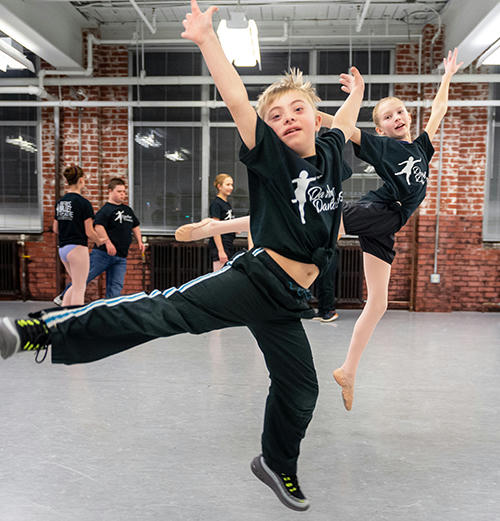 Lucas Long, 10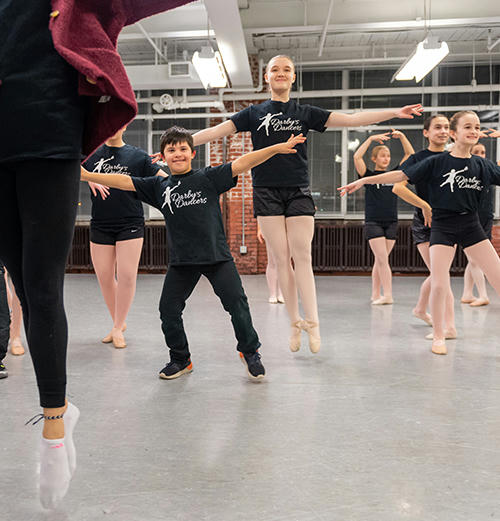 Anthony Rodriguez, 10
Nathan Bland, the Conservatory's owner and director, explains that "Darby's Dancers is a non-profit that we have partnered with to provide dance education to children with special needs and to offer a foundation of inclusion with other dancers." The nationwide non-profit was founded in Huntsville, AL, by the parents of Darby Jones, and it is dedicated to providing classes at no cost to parents of special needs children. Darby was born with Down syndrome, a heart defect and leukemia. But her illness and abilities didn't stop her from doing what she loved. She was an avid dancer and musician, and in 2008, while in treatment for her third fight with leukemia, she joined a dance class for children with special needs. She performed on stage in her favorite silver tiara several times before losing her brave fight six months later.
Living the Dream in Berks
Berks Ballet Theatre Conservatory of Dance is the first school in Pennsylvania to offer this type of programming, and it is completely free for all participants, including dancewear, shoes and costumes. Bland says that Berks Ballet Theatre Conservatory of Dance's program started with a small donation, but has since taken on a life of its own. "We had a $1,000 donation toward the beginning of the season, and since then we've had donations from parents of Conservatory students. All of these donations will help to cover costumes and shoes." Jersey Ink has also provided customized uniforms.
Once enrolled, each student is paired with a volunteer. At Berks Ballet Theatre Conservatory of Dance, each volunteer is a trained Company dancer. "The beauty of this program is that every week the dancers work with the same volunteer to build a strong bond and trusting relationship," says Bland. For those students who wish to take to the stage, they can perform alongside their volunteer partner in the Conservatory's spring performance. This year's performance will be held on June 13 at The Miller Center for the Arts in Reading.
GET INVOLVED
Applications to join the program can be obtained by emailing darbysdancers@berksballettheatre.com. The Conservatory is now accepting applications for dancers for the Winter/Spring school year. The organization is also always accepting donations to help support the Darby's Dancers program. Visit berksballettheatre.com or call 610.373.7577 for more information.